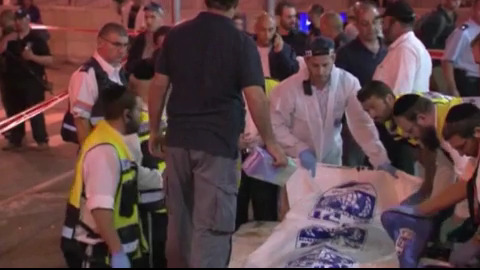 The ongoing violence perpetrated by individuals in Israel over the past month has been referred to as terrorist attacks by the U.S. State Department, which also stated that terrorist acts have been committed by both Israelis and Palestinians.
To date, 11 Israelis and 67 Palestinians and Arab Israelis have been killed. Of note is an attack that occurred on Wednesday, October 21, 2015 at the central bus station in Jerusalem. According to an article in The Jerusalem Post, a man shouting "I am ISIS", rushed soldiers, attempting to take a gun from one of them. Security personnel shot and killed the attacker.
Responding to the scene was ZAKA, a voluntary organization that responds to accidents, disasters and terrorist attacks to ensure that Jewish dead are buried according to Jewish religious law. ZAKA chairman Yehuda Meshi Zahav was at the scene and stated that "it seemed to be a "standard" current terrorist attack, a stabbing attempt, and the terrorist was apprehended" (i.e. killed).
Upon discovering that the body was that of a Jew, Zahav stated, "that it was a mistake to speak of a terrorist". Zahov then proceeded to use the white body bag reserved for Jews instead of the black bag used for terrorists (i.e. Arabs).
A plastic body bag may be only a plastic bag, but it is an indication of how one people think of and treat another. If grievances and frustrations of a people are allowed to fester, resulting in violence, a Netanyahu government that has the desire and power to act, may do so in the name of security and the preservation of it's citizens. Not all citizens, but only those considered more equal than others. That is called ‪ apartheid.


©HeckleMaster™Inc., November 1, 2015, All Rights Reserved