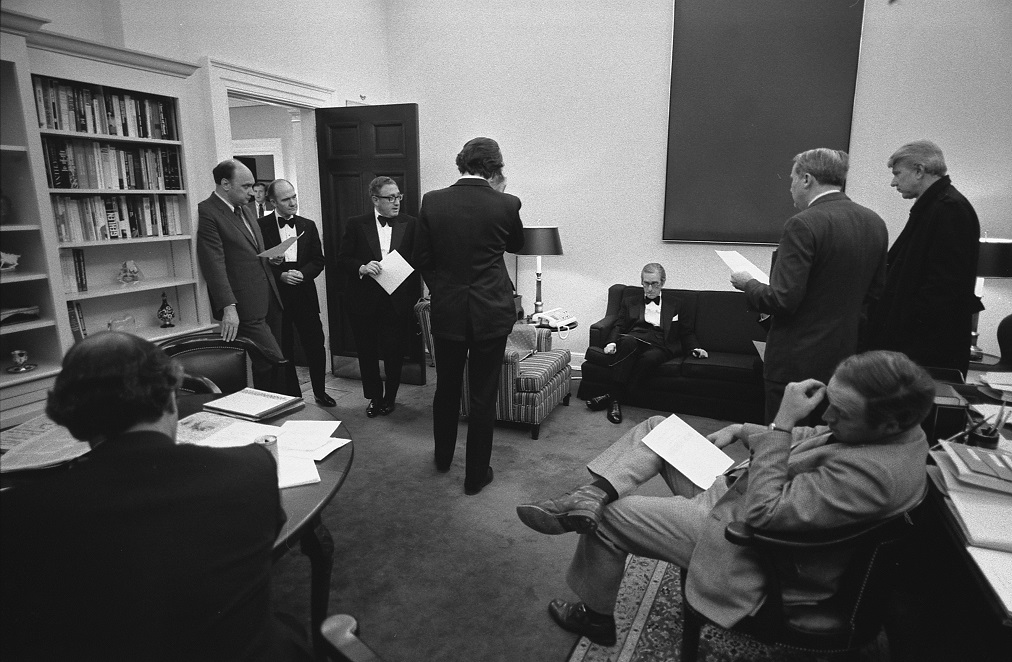 Today marks the 40th anniversary of the end of a catastrophe. A catastrophe that cost the lives of some 58,000 Americans and 2-3 million Vietnamese during the American chapter of the Vietnamese war of independence from colonial rule.
A halt to the rising tide of communism was the battle cry used by U.S. politicians to drum up support for involvement in a war on the other side of the world. The U.S. involvement started in 1954 and ended on April 30, 1975 in a chaotic scramble of escape from atop the roof of the U.S. embassy in Saigon.
The threat of communist expansion is now forgotten, replaced instead by the new threat of Islamist expansion, and Vietnam is no longer an enemy, but a trading partner of the U.S. worth $36 billion per year.
It seems that U.S. policy in Vietnam has shifted from killing communists to the more lucrative strategy of making money from them. In the attached photo taken in the White House on April 29,1975, we can see Donald Rumsfeld, Dick Cheney, Henry Kissinger, John O. Marsh and Brent Scowcroft. How is it that these same people have had so much influence in the inner workings of the White House and U.S. policies over the past 45 years that have resulted in the deaths of hundreds of thousands of innocent people?
©HeckleMaster™Inc., April 30, 2015, All Rights Reserved